National Science Day
National Science Day is used to celebrate every year in India on the 28th February to provide the Respect to the Raman effect by the Indian physicist. Sir Chandrasekhara Venkata Raman. He was provided with many awards and also honored by getting Nobel Prize in the Subject of Physics in 1930.
NATIONAL NEWS
Pradhan inaugurates Dharmapada Samvaad-Skill Saathi Youth Conclave in Odisha
Skill Development and Entrepreneurship Minister Dharmendra Pradhan inaugurated Nua Odisha, Dharmapada Samvaad-Skill Saathi Youth Conclave in Bhubaneswar. The conclave mobilised over 2 lakh candidates who were counselled across 427 locations covering all blocks and urban local bodies, across 30 districts in the state.
Aviation Conclave held in New Delhi
The Ministry of Civil Aviation organised a conclave on the theme "flying for all" where more than 200 delegates including industry leaders and regulators deliberated on issues and opportunities in the sector. This Conclave (the Aviation Conclave 2019) is about the future of Indian aviation bringing together industry leaders, government and regulators for setting the tone and propelling us to realize our Vision-2040," Civil Aviation Minister Suresh Prabhu said.
PM Modi unveils 800-kg Astounding Bhagavad Gita at ISKCON temple in Delhi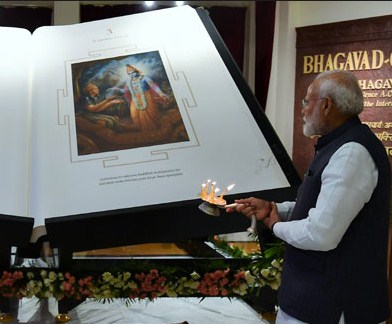 Prime Minister Narendra Modi unveiled a giant Bhagavad Gita, running into 670 pages and weighing 800 kg, at the ISKCON temple in New Delhi. Dubbed the 'Astounding Bhagavad Gita', and measuring 2.8 m by 2 m, it is billed as the "largest principle sacred text ever to be printed".
HRD Ministry launches SHREYAS to skill non-technical students
After launching schemes and initiatives to skill students in technical courses, the Human Resource Development (HRD) Ministry in collaboration with the National Skill Ministry and Labour and employment Ministry collaboratively launched SHREYAS- Scheme for Higher Education Youth for Apprenticeship and Skills.
BOOKS & AUTHORS
Nayantara Sahgal launches her new Novel "The Fate Of Butterflies"
Veteran author Nayantara Sahgal unveiled her new novel "The Fate Of Butterflies" at a function attended by bibliophiles. The novel confronts the toxic dangers of "war, religious polarisation and authoritarian charisma-a dystopian future that is already upon the world".
IRCTC launches payment aggregator iPay
In a bid to promote digital transactions, the Indian Rail Catering and Tourism Corporation (IRCTC) launched its much awaited payment aggregator system 'IRCTC iPay'. The exclusive digital payment gateway will provide better digital experience and improved online digital payment convenience to rail passengers availing online travel-related services through the website.
SPORTS
Aus to host 2021 IAAF World Cross Country C'ship
Australia will host the International Association of Athletics Federations (IAAF) World Athletics Series event for the first time in 25 years, following the decision to award the 2021 World Cross Country Championships to Bathurst in New South Wales.