NATIONAL NEWS
PM Modi inaugurates National War Memorial Near India Gate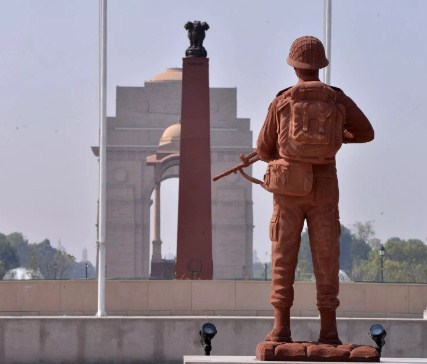 Prime Minister Narendra Modi inaugurated the National War Memorial and slammed the previous governments for delaying the project to honour India's bravehearts. PM Modi paid his tribute to the brave soldiers, who lost their lives in Pulwama terror attack and all those bravehearts who have sacrificed their lives for protecting India.
14th Agricultural Science Congress held in New Delhi
14th Agricultural Science Congress organised by the National Academy of Agricultural Science (NAAS) in association with the Indian Agricultural Research Institute and ICAR held in New Delhi on the theme "Innovations for Agricultural Transformation".
First in India: MP rolls out 100-day urban job scheme
The 100-day urban job guarantee scheme a first in the country and the brainchild of Madhya Pradesh chief minister Kamal Nath is offering over 40 jobs, covering a broad spectrum from cattle grazer to accountant and photographer, as the government aims to cover as many beneficiaries as possible, regardless of their educational qualification. There is no minimum educational criteria and even the uneducated people can find work..
Bihar 1st state to deploy dog squad to check liquor smuggling
Bihar has become the first state in the country to have raised a special dog squad to detect liquor consignment. As many as 20 liquor-tracker dogs which were imparted training for nine months in Hyderabad have been deployed in nine police ranges in the state.
INTERNATIONAL NEWS
Sudan's president declares state of emergency
Sudan's President Omar al-Bashir has declared a national state of emergency, dismissed the federal government and sacked all state governors. In the address, Mr Bashir asked parliament to postpone constitutional amendments that would allow him to run for another term.
BUSINESS AND ECONOMY
Oil Marketing Companies to engage 10,000 women as grassroots energy ambassadors in Odisha
In Odisha, Oil Marketing Companies will engage more than 10,000 rural women as 'Ujjwala Didis' to act as grassroots energy ambassadors across the state to ensure sustainability of LPG use. Ujjwala Didis will act as a bridge between existing and prospective LPG consumers and the distributors in the state.
GST on under-construction houses cut to 5%
The GST Council lowered the tax on under-construction residential properties to 5 per cent from 12 per cent to boost the realty sector. The new rates will be implemented from April 1. The council also reduced goods and services tax (GST) on affordable housing projects from 8 per cent to 1 per cent without input tax credit.
APPOINTMENTS
State Governor Ayala Appointed Sudan's Prime Minister
Mohamed Tahir Ayala, governor of Gezira state, was appointed Sudan's prime minister. Sudanese President Omar al-Bashir said in November 2017 that he would support Ayala in the 2020
AWARDS
Mahesh Elkunchwar bags META Lifetime Achievement Award
One of Indias most progressive playwrights, Mahesh Elkunchwar, will be conferred the Lifetime Achievement Award at the prestigious Mahindra Excellence in Theatre Awards (META) this year. Elkunchwar is critically acclaimed and widely known for having experimented with a wide range of drama and has been a powerful force in both Indian and Marathi theatre for over three decades.