World Radio Day celebrated on 13th February 13th February is celebrated as World Radio Day by UNESCO all over the world. The theme of WRD 2019 is "Dialogue, Tolerance, and Peace".  It is to mark the time where people around the world celebrate the radio and how it shapes their lives. The date of 13 February, the day United Nations Radio was established in 1946, was proposed by UNESCO. It was approved in the 67th session of UN General Assembly.  
NATIONAL NEWS
1st LAWASIA Human Rights conference 2019 held in New Delhi
LAWASIA, in association with the Bar Association of India, hosted its 1st LAWASIA Human Rights Conference in New Delhi with a motive to explore a broad range of human rights issues of relevance in the Asia Pacific region.
Deadline for selecting TV channels extended till March 31
The Telecom Regulatory Authority of India (TRAI) extended the deadline for selection of TV channels by both cable and Direct-to-Home (DTH) subscribers till March 31. The decision comes after the regulator held a meeting with DTH operators and multi-system operators (MSO).
Uttarakhand to get a national law university
The Centre has decided to set up a national law university in Uttarakhand. This is a big step toward making Uttarakhand a quality education hub. India has 21 national law universities, admissions to which are held through a Common Law Admission Test (CLAT).
Kerala Emerges 'Achiever' in Investment Potential Ranking
Kerala has emerged an achiever in the State Investment Potential Index 2018, based on the six pillars of land, labour, infrastructure, economic climate, political stability and governance and business perception. The Kerala-specific findings of the survey, conducted by the National Council of Applied Economic Research, titled 'NCAER-State Investment Potential Index 2018' (N-SIPI) were released at ASCEND KERALA 2019 in Kochi.
APPOINTMENTS
Ashwani Lohani reappointed Air India CMD
Ashwani Lohani, a retired bureaucrat, has been appointed the Chairman and Managing Director (CMD) of national carrier Air India in New Delhi. Lohani held the position for around two years from 2015. In August 2017, he was named the Chairman to the Railway Board. He retired on December 31, 2018.
SPORTS
MP announces Rs 1 crore for sportsmen participating in international events
Madhya Pradesh Sports and Youth Welfare Minister Jitu Patwari has announced a reward of Rs 1 crore for sportsmen participating in international competitions.
He made the announcement at a felicitation function for state atheletes in Ujjain. The minister also announced a reward of Rs 5 crore for sportmen winning gold in international competitions, Rs 3 crore for every silver medal and Rs 1 crore for every bronze winner from the state.
BOOKS & AUTHORS
"Let's Talk On Air: Conversations with Radio Presenters" by Rakesh Anand Bakshi launched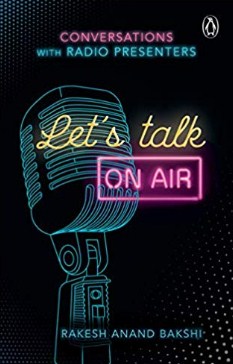 The book titled "Let's Talk On Air: Conversations with Radio Presenters" has been authored by Rakesh Anand Bakshi,was launched on World Radio Day (WRD-2019) on February 13 in Mumbai. This book is depicted as the comprehensive guide on radio-presenting in India.
This book explains the lives of 14 popular radio presenters in India from the legendary Ameen Sayani to present day RJs who have been entertaining us via the airwaves.